Cheuk Kwan, Director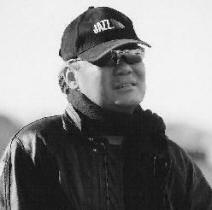 Cheuk Kwan was born in Hong Kong and grew up in Singapore, Hong Kong and Japan. After earning his master's degree in systems engineering in the U.S., he immigrated to Canada in 1976 where he embarked upon a successful career in information technology.
His international upbringing gave the multilingual Mr. Kwan – he speaks English, Japanese, French and several Chinese dialects – an early start in world travel and opportunities to meet people from several countries. His career later brought him to the U.S., Saudi Arabia, and back to Japan and Hong Kong.
Back home in Canada, the community activist founded The Asianadian, a magazine dedicated to the promotion of Asian Canadian arts, culture and politics in 1978. The following year, he helped lead a nation-wide fight for equality for Chinese Canadians.
Mr. Kwan took a film workshop at New York University in 1998 before establishing his own production company, Tissa Films. His first three films, Song of the Exile, On the Islands, and Three Continents, are based on his Chinese Restaurants series and bring together his personal experiences, love of travel and appreciation of Chinese culture worldwide.
Kwoi, Cinematographer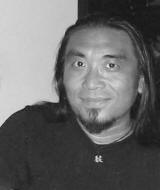 KWOI is "Made in Hong Kong" & culturally disoriented in the Americas. This "model diaspora" has lost close friends, survived poverty, attended art school, read some books, ran the streets and lens the world. His fortune cookie predicaments include making peace with the notion of living on the margins without borders, staking claims to a "paradise" with decent Chinese food, retiring a gentleman of leisure with a mahjong parlor somewhere in the South Pacific and devoting himself to the art of meditative probability after celluloid art becomes obsolete. In the mean time, he is a free agent, living in his converted church/studio in Korean town with his chocolate Lab Bailey and looking to go steady with anyone out there with a kick ass script to shoot.
Susan Martin, Writer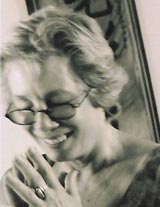 Editor, writer, director and producer, Susan resides in Toronto and is currently spending as much time as possible living and working in Oaxaca, Mexico. She began her film career as an editor and her international credits include the Academy Award winning documentary Hearts and Minds, the feature film Days Of Heaven, and Canadian independent feature A Winter Tan. Susan was one of the first women television directors in Canada, and has taught screenwriting in Mexico, Cuba, Nicaragua, Canada and the US. She is currently developing her own feature project, a Canada Mexico co-production Ni Modo ("Whatever"). Crossing borders, literally and figuratively has been a life long passion and issues of identity are pivotal aspects of her journey as a filmmaker.
Ricardo Acosta, Supervising Editor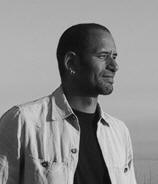 Ricardo studied and worked with the world-renowned Cuban Film Institute in his native Havana before coming to Canada in 1993. Since then, he has edited both documentary and dramatic films, including such award-winning films as Shooting Indians, A Journey With Jeffrey Thomas and Runaway Groom both directed by Ali Kazimi; Unbound directed by Claudia Morgado;Spirits of Havana produced by the National Film Board; and most recently, The Take directed by Naomi Klein and Avi Lewis. In 2006, Ricardo was a fellow at the Sundance Institute for the Documentary Film Editing and Story Laboratory.
Zinka Bejtic, Editor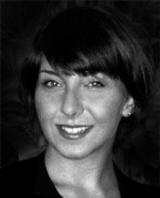 Zinka Bejtic was born in Bosnia and Herzegovina. She earned her Bachelor of Arts in 1999. In 2000 she moved to Toronto where she started the Video Editing Program at the International Academy of Design. After successfully completing it she is invited to stay and teach the three classes Avid Editing, Editing Concepts and Designing Motion Effects. Since then, she has worked as a video editor/graphic designer at companies like MTV, Warner Bros and Endemol. Today, she is acquiring a master's degree in Media and Communication and continues to work as a freelance editor.
Konrad Skreta, Sound Editor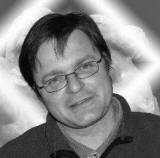 Konrad Skreta is Polish native. He graduated from Faculty of Sound Engineering, Academy of Music in Warsaw, Poland – first of its kind in the world – with Master of Arts degree. Since arriving in Canada, he spent his time setting new recording studio at the Banff Centre for the Arts, new post-production facility at Charles Street Video, doing location sound recording, film and video sound post, recording and editing classical music, and learning mysterious ways of sound restoration.
Anna Barczewska, Sound Editor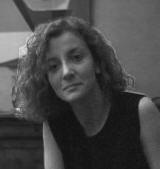 Sound editor/mixer Anna Barczewska was born in Poland, where she earned her Master of Arts degree in Sound Engineering, as well as performer's diploma in piano and flute. She worked for several commercial film, TV and music studios in Warsaw. In 2002 she moved to France to study film at University of Evry Val d'Essonne, earning another MA degree. Since the arrival in Canada in 2004 she has been working in the field of audio on independent productions. At the same time she is pursuing her dreams to make documentaries.
Janet Lumb, Composer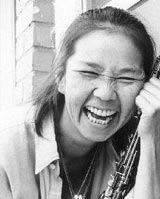 A musician since 1975, Janet has toured with bands in Vancouver, Montreal, across Canada and internationally. She has performed with dancers, actors and painters and, since 1990, has composed music for films. In 1995, as co-founder and director of Accès Asie, an interdisciplinary Asian arts Festival in Montreal, she merges her passions for the arts, culture, family, and community. Janet continues her ventures as a sax player, composer and community activist. A great believer in the chaos theory that there is order in chaos, Janet continues taking chances in the magic of the moment.
Dino Giancola, Composer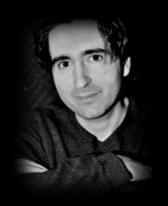 At a tender age Dino was introduced to making music on the accordion. Surviving this trauma, he was inspired to take up other instruments and eventually joined the high school jazz and rock 'n' roll bands. After winning numerous Kiwanis Festival prizes in the solo Spanish guitar category, he attended Mohawk College's music program and then graduated with distinction from McGill University's Faculty of Music. Dino has written dozens of scores for film, television, theatre and dance. Recently, he has written music for sitcom theme songs, orchestrations for The Ensemble Moderne of Frankfurt Germany, and music to showcase major instrument sample libraries.
Monika Mérinat, Associate Producer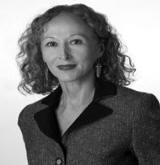 Monika was born in Switzerland, emigrated to Canada as a professional puppeteer, toured Canada and Louisiana with her puppets and ended up at the CBC (Radio-Canada) and later TVOntario (TFO) as a series writer, radio and TV host, journalist and producer. She adapted many Imax documentaries into French, as well as several TV series. Of those, Restaurants Chinois was the best of all.
Randy Shek, Associate Producer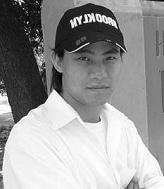 Randy Shek has a hunger for both proper Chinese food and documentary films, so this project is a perfect combination of his twin obsessions. He is a documentary programmer for the Toronto ReelWorld Film Festival and an independent documentary producer. In 2004, Randy launched the Asian-Canadian Artists Fund for the North American Association of Asian Professional (NAAAP Toronto) and served as the inaugural director of this grant. He also sits on the Board of the Chinese Canadian National Council Toronto Chapter. He brings his experience in and knowledge of the documentary industry and copyright licensing issues to the Chinese Restaurants team.
Linda Tse, Associate Producer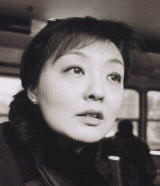 Linda Tse was born in Hong Kong to Chinese Indonesian parents. She graduated from Baptist University with a major in English Literature and minor in French. Her passion in interior design, film and photography led her to become, at 21, a full-time columnist for a Hong Kong avant-garde magazine. At 25, she became the managing editor of four lifestyle magazines. After immigrating to Canada in 1990, Linda worked as a reporter and film critic for a Toronto newspaper.