Gotenberg, Sweden
July 4, 2001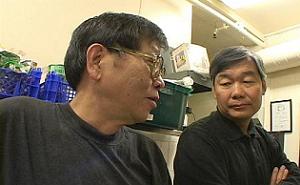 I woke up at two pm and it's after five pm by the time we get back to Lille Buddha, everyone's bright eye and bushy tail except for my crew. I leave David to cover the civilized dinning room while I dive into the more challenging deep end of the kitchen.
The kitchen is typically Cantonese like their traffic. It is chaos, but if you groove with everyone's energy and flow, there is a harmonious madness that won't let you collide into any accidents. I have to admit, I thrive on busy kitchens with Hong Kong style chaos and efficiency for shooting. When I click with the energy flow… it reminds me of sparring… could be almost as good as sex when you hit all the right marks or as my Steadicam instructor Paul Taylor use to call the "sweet spots".
This midnight sun might be a novelty at first, but it can drive you bonkers after a few days. Having months of eternal night without daylight in winter and then switching to the other extremes of no nights at all for the summer months would give me major depression issues if I live here.
It's one am in the morning, but it's high noon here in the land of the midnight sun. I'm out shooting the deserted streets playing with color manipulation and time lapse to accent the mood. It's very Hitchcock with the birds hovering the deep burgundy sky over this sleepy town and not a single other life form in sight. That's what Cheuk told me he wants.
Tonight we interview the kitchen workers. Their stories remind me of those I used to hear about illegal uncles who slept in the basements of Chinese restaurants. They lived in self-imposed isolation to dodge the RCMP crackdown on illegal "paper sons" before the Canadian government gave amnesty in the 60's. My father was among these uncles.
The sun finally breaks out on our last day before we head off to the airport. But it's still not warm enough to get back into my warm weather gear. We rent a car from Oslo airport and drive to Gotenberg where we meet Ting's sister Wai and their mother Mrs. Lee. David is down again with something. These young pups just can't keep up with the vets.
We're off to the Swedish Cup with Wai to watch her boyfriend Anders in the yacht races. Wai left Hong Kong when she was only six and has been in Sweden since. She looks and acts like the girls in Causeway Bay, but she only dates Swedish guys.
While everyone suntans patiently until the wind picks up for the races, we take Wai away for an interview in an old stone tower. Cheuk wants to shoot this like a Bergman film. So I pretend to be Sven Nykvist and am confident that the sun will shine beautifully through the window bathing our Fai Wong wannabe. Wai had apparently done a quick stint in the Hong Kong film industry where she was exoticized because of her Swedish accent.
We head back to Gotenberg… shoot a bit of ambient and drive back to Oslo the next day to catch our flight home.