An Expressive and Personal Voice
St. Julien, Mauritius
April 2, 2001
We're back in Port Louis and Cheuk is getting into the groove of the series and feels confident that we can tie up loose ends here in two days. He's in the cool indoor comforts of the Airline Centre fixing our flight plans to go home a day early while David and I sweat it out in the blazing sun picking up ambient outside.
David is finally catching on to the serendipity nature of documentary. "Never ask how long we're gonna be… or where're we going next… just keep shooting out of response and make no intellectual judgment… thinking makes good editing but not good pictures."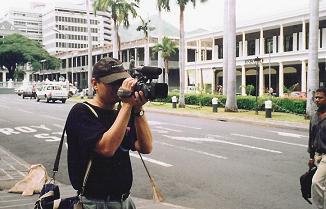 Raj drives us back to Chez Manuel with stops at various Buddhist, Hindu and Tamil temples along the way. Once again, our gracious host Collette has prepared us another Indo-Hakka lunch today. Not only did I get to film her kitchen in action today… but also I was privileged in filming her in the middle of firing a kitchen help while her husband Manuel quietly observes in the background. She's one tough Dragon Lady!
Today is basically our Collette day. I'm gonna stick to her like glue and get as much in the can as I can short of following her into the ladies' room. We begin the afternoon on the drive… picking up supplies at various stores in and around Chinatown… her interactions with the community… offering incense at the temple where her mother rests… and finally by dusk, we're in the village of Belair where she started it all. It was a long and intense day. But as I had said on my first day here, there's no need to concern myself about making anything original. All I had to do was find an expressive and personal voice.
Our last day here before we fly tonight. I'm more than confident in our story after last night. As we pack up to go, I'm getting post-shoot depression. I always get depressed when I reflect back on missed timing on takes. There's only so much you can blame on equipment, location, or shooting from the hip. It's a bitch to get so close to great and have the camera run out or get out of synch with your subject.
Our kind of camera work is "anticipate and respond" without any safety nets. I need to follow our subjects as much as I need them to lead me in this tango choreography. There are no second takes. I hope Zinka will be kind enough to lose the takes I lost.
I'm not looking forward to another twenty-plus hour flight… into what sometimes feels more than a life time… from a lost identity of borrowed values on borrowed time… all that I hated about displacement and exile comes back to haunt me deeper with each time zone and more terrifyingly magnified through the bottom of each duty-free whiskey glass.