An Afro-Brazilian Carnival
Salvador, Brazil
July 2, 2002
We begin our sojourn up to the Amazon the day after the Cup. This morning we fly to Rio — nothing much to do here really but relax and grab some ambient footage. Besides, how could anyone come to Brazil and not take in Rio.
We arrive in Salvador at the crack of dawn and checked into a beach resort just minutes from some of Brazil's most raw and unspoiled beaches. The beach bums here are much darker than their European cousins in Sao Paulo and Rio. We are in the heart of Afro-Brazilian culture. Driving along the coastal road towards Centro Historico reminds me of Macao. Ironically… that's where we ended up stopping.
Maca Restaurant, in the district of Barra, is a permanent roadside 50's diner off the beach. The Leungs came from Kwangtung province by way of Maca. Brazil seems like their logical destinations since Maca was a Portuguese colony. They probably had some Portuguese under their belt before they left Maca to come here. It's a real neighbourhood hangout. They seem at home with their regular customers even though it's only been seven years.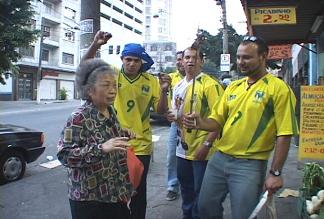 We hit Centro Historico at the peak of another carnival. It's on a sloppy hillside with narrow cobbled stone streets surrounded by historical landmarks. There's a continuous free flow of booze, music and dance from bar to bar. It reminds me of New Orleans with an African flavour. People are friendly… inviting my camera to shoot everything. I get dragged into this one place where there's some kind of ritual, ceremony or dance happening. The women are all in bright colour costumes. They are either all intoxicated or in some sort of trance as they engage body and soul with this hypnotic and rhythmic chant.
It's jammed packed. The crowd is cheering me on to shoot. Someone even pulls up a table for me to stand on and clears my shot. Another offers me a beer. I grab all the excitement that I can while my stream of consciousness wanders… How much is this all gonna cost me… did someone just slip something in that beer… will I be table-dancing in my G-string soon… neah… dream on.
There're little pockets of festival at every turn. A street festival is happening in Place de Se. I hear a drumming procession coming behind me. Another chanting crowd can be heard in the distant. It's a festival of sight and sound and I found my capoeiras.
Capoeiras is an ancient African martial art brought over by the slaves and later fused with Brazilian rhythm disguising it as dance to fool their masters. The form is practiced in pairs facing off inside a circle of musicians to haunting rhythmic chanting, percussion and berimbau, a one-string bamboo instrument. There's a group that works out in the park near me in Toronto. I've been looking forward to this through the whole trip.
We shoot well into the night as the party around us continues. We are leaving early the next day. The Amazon beckons.