San Fernando, Trinidad and Tobago
March 8, 2000
We hang out at the Great Wall in the mornings picking up ambient footage. The chefs are just young puppies but well trained from my home county Toishan. They don't have much of a life in this island paradise. Without the language and social skills, all they have is each other and the karaoke machine for the time being. I think our presence and the sound of Cantonese make them homesick. They made me the best tofufah fresh every morning. We hang out by the bar when there's not much happening. Cheuk is addicted to Pina Coladas, while I stick to Carib with Ginseng Up, a Trini 7-UP. When mixed, you've got an Island Shanty!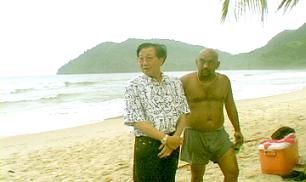 This afternoon we head off down memory lane with Maurice in search of Miss Noel, his first schoolteacher. I'm not sure when was the last time Maurice visited his old village Hermitage or Miss Noel, but he doesn't seem to know his way. We've been navigating these country roads for over an hour. But he did find the Cipero Catholic School finally. It appears to be frozen in time.
Maurice seems awkward and uncomfortable here today. Either he is not a nostalgic guy or it's reminding him the awkwardness and discomfort when he first arrive to this foreign culture. He is equally uncomfortable in talking about his dad Henry who was apparently quite a player with a taste for expensive sports cars and fast island hotties. They say alternating generations rebel… perhaps this explains Maurice's upright father figure.
We spend the afternoon today with Johnny, the Soongs' only male heir to the family legacy. He is not as warm as his father. I find him rather cool and distant, a difficult guy to get to know. But perhaps he's just shy and distracted by the break-in last night at The Coconut, one of two successful nightclubs that he owns and operates on the island. Outside The Coconut, I get a clip of Maurice doing his "Harry Belafonte".
After restaurant closing, we chat some more with the Soong's on camera. We catch Maurice in a vulnerable moment as memories of his mom brought tears to his eyes. I never know if I should turn it off at times like this in respect of my subjects. But I know Cheuk wants this footage.
Today's our last day here. We drop by the Great Wall to say goodbye to the staff and family. Brenda extends an invite for me to come back for a visit and she promises to hook me up with a nice Chinese Trini girl as if I was an adopted son. I guess she wants to work on me since Johnny has become a lost cause in the Chinese girl department. I tease her back as I would with my own mom and told her I have a soft spot for the darker skin island hotties. She was not amused.