Cape Town, South Africa
March 24, 2001
This morning we take Onkuen & Maylee to the Maitland Cemetery where Onkuen's husband Ying rests. For a man of his stature, I was surprise to find the grounds in such shamble. It took us a while to locate him amongst the unkempt rubble graves. Finally, we come across his insignificantly marked cross and plaque. It was difficult getting smooth arcing shots on the Steadicam with all the hidden uneven potholes around. But I think I got some nice pensive moments with the late afternoon sun silhouetting them in the foreground.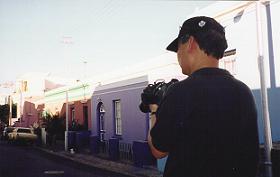 Tonight we meet Peter Van Wyk, a young Afrikaan from Transvaal. He has epilepsy but Onkuen hired him as a waiter regardless. I'm not sure if this was a good deed or reversed exploitation. I can see clearly that the black workers don't get to eat at the restaurant, but I'm not sure if it's the same for Peter. Is Onkuen still so conditioned by past apartheid? Peter thinks the world of her and is gratified to be working there. So I didn't have the heart to tell him that she has been feeding him table scraps from the restaurant clienteles. I'm not sure who has it worse. The black workers who get sent home without supper or Peter?
We decide to grab his POV after work. It's after one a.m. by the time Peter's finished cleaning up and God, my Gaffer of Choice, has retired for the night. Cheuk wants me to fill in the eye-bags on a man who's been slaving away in an apartheid sweatshop. I try bouncing candlelight off a piece of white foam, but Peter just ain't gonna glow without lights at this hour. Besides, the restaurant was really not conducive for the context of this little chat.
The bars along the strip were all closing and they would have been too noisy anyway. So we decide to bring Peter back to our B&B around the corner. I set up Irving Penn's little room in the courtyard and voila! Moonlight is falling beautifully on Peter from my Chimera… Crickets are chirping quietly in the background under the tolerable levels… and there's a mini bar full of politically incorrect South African beer and wine. Even politically incorrect beer is the least that we can offer a man who's been sweating slave labour all day long. It didn't take too many cold ones before Peter spilt his guts for my camera. Controlled chaos at last!
Our last night after a dinner hosted by Onkuen at a local Italian restaurant, I finally get to bring my camera into her flea-infested house. Poor David is trying to keep up with my roaming camera while battling with his allergies, nose dripping, flea mites and lord knows what else. I'm trying to keep on top of onkuen's neurotic rambling, while handholding the shot steady with one hand and slapping my legs from fleabites with my other.
"Keep it tight on her hands… don't reveal her face till I signal," Cheuk directs me. Space = Context. Repetition = Identity. Closeness vs. Impossibility Of Love. Dynamism vs. Need To Hold On. You have to be Asian to understand Cheuk's ambiguity. But there's no time for deep thoughts tonight. When I shout out to David, "Is sound ready?" I bet he can hardly wait to excuse himself on "metaphysical" grounds and get the hell outta there like "bats outta hell."