Mitchell's Plain, South Africa
March 22, 2001
In North America if the rental place runs out of econo compacts, they bump you up to the next size up. Here in Cape Town, they give you a leather upholstered BMW. I'm so self-conscious driving around the shantytowns of Mitchell's Plains in this luxury rental when some of these folks might not even have a pot to piss in.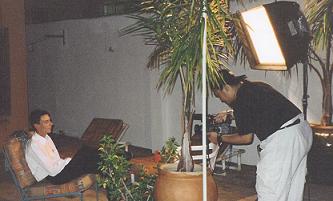 We park amongst a row of jalopies. Our shiny BMW is sticking out like a sore thumb and so do we. Well… at least we're not white. We keep our cameras in our bags until we feel out the situation.
Cheuk chats up the coach at the soccer field while the kids' checkout David and me with curiosity. The brave ones poke at us with their fingers as if we were from Mars. Some think David is a woman because of his fair skin and pretty face. He is not amused. They were shy at first… but once they felt comfortable with us we couldn't get rid of them for any clear shots. But I think we got some good stuff here and Cheuk is glad that no one came up to us with machetes demanding his first born like they did to him in Kenya.
We drive back to Cape Town hugging the shoreline of white sandy beaches. Not a single black body can be found amongst the white surfers. A stark contrast to the townships we just left behind.
It's magic hour as we cruise along Main Street towards Golden Dragon. Bars and cafes are gearing up for the evening nightlife. It is a predominantly white neighbourhood. The only black faces you see are the street venders who I highly doubt can afford to live anywhere near here. It looks like it might take some years for these apartheid conditionings to blow away.
Cheuk wants to get Onkuen together with Shereen at the Noon Gun Tearoom. I think it's a good idea. Another woman activist with strong feminist and political convictions might bring out another side of Onkuen not accessible by us. I got some really great sequences with engaging dialogue of pre- and post-apartheid South Africa from two very different women.
Shereen is having us for another scrumptious Cape Malay lunch while Onkuen and Maylee goes back down the hill to open up for the lunch crowd. I follow Shereen into her kitchen and film her making koeksisters, a Dutch Indonesian delicacy resembling a donut but without the hole.
After lunch, with Table Mountain as backdrop, Shereen shares more of her apartheid struggles on camera. She gets quite emotional as memories of her involvement in the underground movement comes back to haunt her.
We find ourselves at Victoria and Albert Waterfront. At last, a place where we see a slice of what post-apartheid is supposed to be. In this rejuvenated modern tourist trap, we are seeing blacks, whites, and browns mixing innocently on this lazy Sunday afternoon. But is this real? Or is this a Benetton ad… A "wish you were here" tourist propaganda façade to pacify and cover up what's not being accomplish in this post-apartheid fantasyland?