Kolkata, India
March 28, 2003
We arrive on my 47th birthday in Calcutta. This is the Yeh family empire, our India East story. Four brothers run the New Embassy, their wives and daughters-in-law run the Sunflower Beauty Parlour — and the brothers all take turns once a month, like it was purgatory, at Hotel Valentino up in Darjeeling.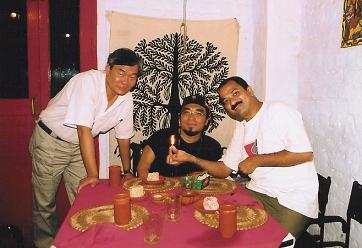 We arrive at the restaurant for lunch. The contrasting dark cool interior versus the blazing hot exterior reminds me of Havana's Bar Pekin. The small unassuming joint seems out of place and dwarfed in the midst of the new gentrification of built-up office towers and shopping malls. The neighbourhood has probably become one of the nicer areas in Calcutta. The lunch crowd is a mix of nearby civil servants and office workers with a few Indian tai-tai's on their leisurely shopping trek.
The kitchen is a disaster zone. What a big contrast from Ling's in Mumbai! There's rubbish everywhere. The kitchen help have brown gunk all over… including themselves. They look more like the rejects from the "Dirty Dozen" chain gang compared to Ling's well-disciplined army. I haven't seen anything this scary since the kitchen at the Golden Dragon in Cape Town. It was a priceless shot when I caught Samson Yeh whacking the Indian kid across the back of his head after tasting the salty food.
Samson takes us to show off the Sunflower Beauty Parlour after lunch. Not only have these Hakka women monopolize beauty parlours in India but they've even continued this tradition else where like back in Toronto and Vancouver where there are huge Indian communities. My friend Eva has recently been taken into this "cult", as some of her girlfriends call it. She had her eyes and aspirations set on pursuing a hardcore career in the high fashion and film industry as one of the many overpaid hair and makeup artists. But she gave it all up settling for a place in her life partner's family run Hakka Indian beauty parlour business. Many of her girl friends worry that she's been sucked into a cult like Michelle Pfeiffer in "Married To The Mob". Is Samson like the Godfather in this Hakka mafia?
We get out of our cab at Maidan when we saw an anti-Iraqi War demonstration in progress. They were members of the Communist Party waving red flags everywhere with the amber Indian sun shimmering behind. Ajay, an avid cricket fan finds a bunch of kids playing and joins in. Cheuk gives it his best college try… but I think he's still in Blue Jays mode. The boys enjoy their game while I film the incriminating evidence.
Ajay suggested we go find this Bengali restaurant for thala tonight. The guys pick up a birthday cake on Park Street. This is my second birthday on this shoot. I am two years wiser and settled for a quiet evening instead of my 45th nutty celebration with David back in Tamatave, Madagascar.