Eat Your Heart Out, Chris Doyle
Cape Town, South Africa
March 21, 2001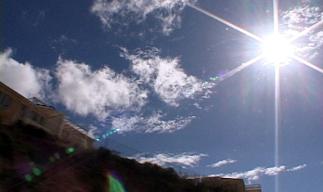 The Sea Point area of Cape Town reads like a wish-you-were-here postcard… reminiscent of Robson Street in Vancouver… dullsville. Familiarity is killing the exotic. Didn't we come here to de-familiarize ourselves… move out of the preconception of the world we know so well?
We're out of our depth and space here. We don't know the city. So why do we still tend towards the familiar bars, fast food joints and Chinese restaurants? We seem to be stuck on our North American concerns and perceptions.
Cheuk reminds us that today is the International Day for the Elimination of Discrimination — on March 21, 1960 police bullets killed seventy-six black protesters in Sharpeville Township. Right, we're in apartheid country. He now takes us to the Golden Dragon, to introduce us to Onkuen and her daughter Maylee. It's almost lunchtime. From the cool reception, I'm getting the feeling that maybe our host is getting cold feet about being on this film. I'm getting bad vibes about this… not good.
David and I are getting bored. I'm more enthusiastic about finding ostrich jerky than shooting. Off work in the evenings we stroll the streets feeling like Kafka's watch or some other useless thing looking for late night internet-cafes. In daylight hours, I continue to look for ambient shots… pretending to know how beautifully the sun will fall while wishing that I could come close to Nestor Almendros' poetic intuition and find the real "music" of this place.
I'm afraid to eat at the Golden Dragon now after filming the kitchen in action. Tonight we sneak off to have ostrich with black bean sauce over at Mister Chan's instead. We head back to Golden Dragon feeling rather guilty. There's hardly any customer… now I feel worst.
Finally, we hit Bo-Kaap, the Cape Malay neighborhood… I'm working intuitively off real people… the space is jiving and we're all jamming so much better. Bo-Kaap is full of narrow winding streets like Quebec City but with pastel colored Arab style houses that look like giant popsicles. It's a friendly neighborhood. People are very receptive to my camera and are willing to speak openly.
We gun it up to the top of the hill for lunch at Shereen Habib's Noon Gun Tearoom. It has a spectacular aerial view of Table Mountain. We feast on Shereen's spread of Cape Malay Indonesian delights.
This morning, we take Onkuen and Maylee on an excursion to Cape Point. They've never been there before even though they lived in Cape Town all their lives. It's about an hour's drive from the city. By the time we get to the Cape, they seem to be more at ease with my camera and are reflecting more openly about their lives in South Africa. Onkuen gets quite emotional at the top and gives us some great personal clips about identity, loss and belonging. I'm feeling much better now that we've got some good footage in the can. Eat your heart out, Chris Doyle!