Havana, Cuba
June 17, 2002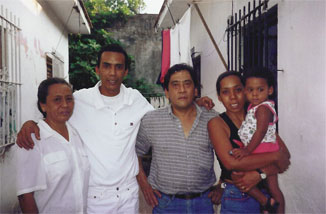 Is it the set from Jackie Chan's "Shanghai Noon" or is it Jet Li's "Once Upon A Time In America". No… it's just the Bar Pekin on Zanja, a wide dusty boulevard along the edge of Barrio Chino. Everything is aged but still has this tacky plastic feel about it.
It's almost impossible to enter unobtrusively, so I might as well pretend I'm Jet Li as I kick the swinging doors open to make way for my continuous Steadicam move through the entrance marked with tacky Chinaman characters "Bar Pekin".
A shaft of bright white light blinds the patrons as my entrance engulfs the bar with a gust of heat and dust from the blazing sun outside. I'm disappointed by the absence of sexy saloon girls but the crowd is friendly and there're no challenges to any gunfights so I rest my PD150 and relax for a long overdue mojito.
We meet Maritza Cok, a half-Chinese bartender who makes a mean mojito and Abel Lam, another mixed-race Chinese cook who doesn't make so good fried rice. We also meet Frank and Jorge, two mariachis who came in to do their renditions of Guantanamera and Chan Chan.
There's music everywhere in Havana. Further down Calle Obispo, we bump into a band of street performers on high stilts making carnival music but with Chinese horns and drums. I get busted the minute I started tracking this girl with skin-tight hot pants that barely covers her gyrating hips. I hate paying to miss the shot. So I brushed off the annoying money collector to our "fixer" guy.