Mumbai, India
March 26, 2003
We are waiting to meet Nini Ling at the Crawford Market. It's an ungodly hour of 6:30 and we even got here earlier to miss another torturous ride through rush hour traffic jam. It's still dark with street people scattered all around sleeping. Eerie and surreal like dead bodies lying about after a battle scene.
Soon as Nini arrives, we're off to the races. Having grown up in Shumsuipo, I was prepared for a trek through the Mumbai swamps with my rubber sandals and shorts. Ajay tells me how this white camera dude from Canada was so freaked by the conditions that he flew back after not more than a day, and he was nowhere near a place like the wet market we are about to shoot in. I, being Cantonese, am always leery of buying dead fish in pristine packaging. I'll take my chances with the wet market over any pristine North American supermarkets for my fresh live seafood. We have a saying in Cantonese. "If it's not movin'… I ain't eating it".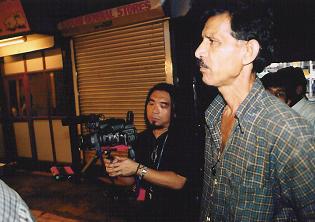 I'm wearing my headsets not to monitor but more to muffle the loud noise and protect my ears. It's so noisy in this echo chamber that you can't tell the vendors from the buyers as they badger and yell at each other for the best bargain prices. People are munching their food on the go and drinking chai next to animals dead and alive. It is surrealistically Fellini meets John Waters. The flood of animal blood and pungent mystery sewage soaks my naked sandal feet. The only thing I'm trying to keep clean is my camera.
The Crawford Market is one huge maze. If I blink, I'm likely to lose Nini during this tracking exercise and I'll be lost here forever. I stick with him through his routine and we eventually emerge back out into the glistening Indian sun shower.
Just a quick drop off at Ling's to get the fresh seafood out of the blazing heat and we're off again to Sasson Docks to get more goodies off the source, the fishing boats coming in with the days catch from the Arabian Sea. It turns out to be a wild goose chase as the day's catch did not satisfy Nini's high standards and we ended up back at Ling's empty handed. He'll have to settle with what he got earlier at the Crawford.
Later in the day, we stroll over to Churchgate capturing ambient along the way. Cheuk wanted some footage of crowded commuters at the train station. The light was gorgeous. But we got busted again. It was worse than Israel this time. We got hit with legislation B.S. a mile long. Not even our "fixer" guy could get us off this time. We had to give up the footage and still pay off a fine… or bribe… depending on how you look at it.