Tel Aviv, Israel
January 21, 2001
We're back in Israel for our second shoot and it's our last night here. David, our soundman, is getting restless and really wants to check out some Israeli nightlife before heading home. I couldn't let him go and get into trouble all by himself, so I decided to entertain the idea. It turned out to be an eye opener… for young David anyway.
We head up the evening barred from one establishment where our Canadian passports were no better than an Israeli Blockbuster card. The evening wrapped up with some Israeli kamikaze maniac calling David a "F'N Chink" and to "go back to wherever the fcuk we came from". David grew up in a sheltered and privileged environment. This is probably the first time he has encountered such racism. I've never seen him so upset.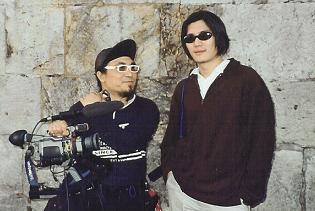 As the Bad Ass Monkey in me was revving up for a good work out, déjà vu headlines of "Canadian cameraman busted by Israeli police for inciting international incident" flashes by my stream of consciousness. To set a good example for my student and not contribute anymore to the Middle East equation/crisis, I chose to walk away to fight another day. As we stumble our way back to the B&B, David grumbles profanity like a bad Tarantino character while I laughed and farted my tension away. I am then quickly reminded of the differences in our social upbringing.
Our days usually start with casual cinematic dialogue concerning the day's shoot over breakfast. The rest of our daylight hours are devoted to practical fieldwork be it interviews or responsive ambient shooting which are more about atmosphere and metaphors, rather than space. Without sounding too Zen or pompous about it… they establish a mood or some subjective POV that simply provide clues to an ambiguity or ambiance we want to suggest but not explain.
We spend the rest of the day with Mai before our flight. Cheuk wanted footage of Mai hanging out with her Israeli friends in Tel Aviv. We hang out with her around the trendy area of Dizengoff. After she said goodbye, we execute our standard "drive-by shooting" — with Cheuk driving and two cameras grabbing images out the car windows. People were shouting at us in Hebrew, but we couldn't understand. We thought they were greeting us. Big mistake. We just shot the headquarters of the Israeli Defense Force.
That's when the security busts us. They demand our tapes and try to confiscate our passports. But after nearly an hour of looking through our footage by the side of the road in rush hour traffic, all they found were cute babes in military uniforms. They reluctantly return our passports and let us go, but not without first hauling Cheuk into the office where they photocopied our passports. I wouldn't be surprise if our passport information were filed away in their data for indefinite suspicion. One of the guys could have been Mai's boyfriend who apparently works in the "intelligence community". Maybe he is checking up on his future in-laws' networks and connections. You never know in Israel.