Rice Bowl Diaries Preface
By Cheuk Kwan
I first heard of Kwoi from Daisy Lee, for whom he had shot a couple of her films. "Kwoi is the only one you ever want on your shoot," Daisy had said without hesitation, "just don't mind the way he looks."
Kwoi walked into our first meeting dressed entirely in black (this was summer), key chains hanging from his belt, wearing a cowboy hat and white-rimmed spectacles. This was to be his uniform for the next four years. Sometimes just to throw me off he would show up at the airport, like the time in Peru, wearing an Israeli army fatigue. That's when I put my foot down. I didn't want die in a crossfire mistaken for the Shinning Path.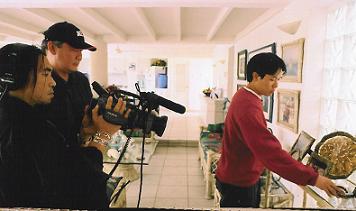 Although I have never met Kwoi before our journey together, our paths had actually crossed. He and I share many of the same acquaintances from the Asian Canadian community: filmmakers, historians, artists, community activists, politicians, and musicians. Being a neophyte myself, it was also Kwoi who put me in touch with people in the film community that eventually became the Chinese Restaurants team.
Our journey started on a very cold day in January 2000 from Saskatoon airport. It ended in August 2003 in a Lima hotel room when we opened a bottle of champagne to celebrate the final day of our shoot. Four years, thirteen countries, fifteen stories, 200,000 kilometers, many bowls of rice and two birthdays together, we think we have canned the definitive diaspora story.
We work well together. I have a very fluid ambiguous style — just going with the flow — and at times it seemed like I didn't know what I was doing. I love the uncertainties on location and don't write my stories until I am back in the editing suite. There are no call sheets, no transportation schedules, just return air tickets. I am my own fixer and the on-location catering was excellent – we were well fed by our Chinese restaurant hosts! Kwoi loved it all and flourished with his camerawork.
Yet, I still don't know much about Kwoi after our trips together. He never told me about his girlfriend troubles or his latent identity crises. That's why it's been so wonderful to read his uncensored journals — they are funny, whimsical and colloquial.
And I found out a lot about the man and his escapades. Like the time after I had left the country, Kwoi picked up an Uzi-toting army chick in a Jerusalem disco and proceeded to spend the next forty-eight hours frolicking with her in (on?) the Dead Sea. No wonder his camera coverage from that period was poor.
So, here are excerpts from Rice Bowl Diaries. As you can see from the epilogue, Kwoi came full circle — he has found himself through the odyssey. Hey, if Che could do it with his motorcycle, surely Kwoi can do it with his rice bowl. After all, they are both known by just one name.